In keeping with its 24 hour economy ambitions, Nairobi is a city that almost never sleeps. It quite literally transforms into one big party zone at night with hundreds of bars blasting the latest musical hits at ear drum shattering levels; restaurants become a beehive of activity as revelers try to avoid drinking on an empty stomach and the roads quickly morph into an impassable gridlock of the best 'tricked out' vehicles full of happy go-lucky merry makers. And that's just on a Wednesday night!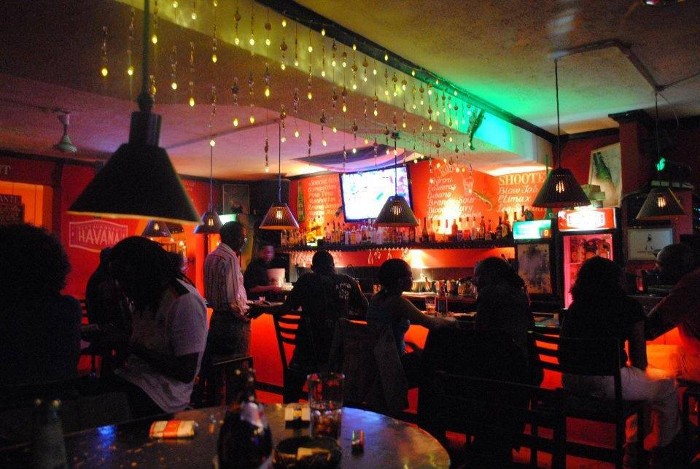 Havanna Bar, Westlands
We are a partying Capital city. Nairobi works almost as hard as it party's. Our love for good music, great ambiance and a good time is portrayed by the kind of outstanding night spot establishments that litter the city and the suburbs that surround her. All you have to do is step out into the night. (Remember to bring your style!) We have all sorts of entertainment spots within and without this beautiful city in the sun. Here is a guide to visiting a local bar in Nairobi and some simple tips how to party like a Kenyan local so that the next time you come around, you know exactly what to do to make that night unforgettable.
Tips on How to Enjoy Kenyan Booze on a Budget
If you want to enjoy local booze like a Kenyan, you simply must follow this protocol:
Get a bunch of merry friends
Find a local bar
Pick out an attractive waitress and let the party begin!!
It has become a tradition for most Kenyans to start and finish off their nights in their local bars. This is mostly because the local bars sell beers at an affordable 'Mwananchi' (local citizen) price. No matter where you are, there is always one local bar that simply attracts every single resident in that area. All you have to do is find it. And this is not difficult to do. Either ask your local guide, or friends to point out that one bar. In case you have neither, just ask any security guard you see and they will be sure to recommend the most popular local bar around.
The thing about many of these local bars is that they offer everything that the big city clubs offer only at a cheaper rate. In Lang'ata for example (a popular mid-class suburb) you will find clubs such as 'Summers' that sell local and international beers at less than 200/= (a little over $2). Their bottle service is also outstanding with premium Whiskey, Vodka, Wine, Tequila and any other kind of drink you can think of at an extremely reasonable rate (usually below $50).
Summers Pub | Photo Source: Foursquare
The Best Local Bars in Nairobi
Rafikis Bar | Photo Source: Facebook
This really depends on which part of the city you visit. In Lang'ata, the locals go toSummers, Rafikiz, and 1824 Whisky Bar among several other intimately small local bars that cater to a crowd where everyone knows everyone. On Ngong Rd, you will find Quinn's Bar, Reminisce Karen Krave, Frankie's and so many others. As fun as all these bars are, if you really want to get down and dirty with the locals, you should try the bars, any bar,  in Nairobi West and the greater Eastlands Region. This is where the party never stops.
Reminisce Karen Krave Bar and Grill | Photo Source: Facebook
What you need to know is that some of these bars have become so popular that they are now fully fledged clubs. 1824 for example is so popular that it never closes! It has one of the best sounds in the entire city and you will find some of the most beautiful women in Nairobi here (regardless of the fact that some of them will be in their pyjamas and flip flops)
When to Visit Local Bars in Kenya
The simplest answer to this question is 'whenever you feel like it'! It is that simple. Some of these bars never close. However, due to recent Central Government regulations, bars are now licensed to operate from 5PM to 11PM on weekday and from 2PM to 11PM on weekends. Although, many of these local bars have acquired licenses to operate as clubs which means they can go on and on till the break of dawn (pardon the blatant song lyric quotation).
Just to be safe, you can go to any of these local bars on any given day as from 5PM to 11PM, at which time you can head out into town or Westlands to enjoy a more vibrant nightlife. This is where the best of the best come out in all their glory to while the night away with drink, dance and shameless flirtatious behaviour. Havana and Bacchus in Westlands are particularly popular with foreigners who find that they are among like-minded locals here as well as their own kind.
How to Get Served
Guys will do well to pick out a waitress and ladies will do well to pick out a waiter. To get served in Kenyan bars you have to but sit down and a waiter will be right with you. Depending on how busy the local bar is, and most of them get super busy especially on the weekends, service is often very fast. By picking out a waiter or waitress you can flirt with and smile at will almost always guarantee you faster and better service. Just remember to tip and not to get inappropriate (they don't like that).
What to Drink and Eat
1824 Whiskey Bar | Photo Source: Facebook 
If you are the experimental type, you should try an assortment of the local beers. 'Tusker' in particular is very good and so is 'Pilsner'. For the more sophisticated palate, you should try any beer from the Sierra brand. Sierra Blonde is great for the ladies and Amber for the guys. If you go to Brew Bistro on Ngong Rd, you can try out some of the finest local brews made in-house.
On the other hand, if you are not a beer drinker, then you can try our Mara wine, or Leleshwa Wine, these are all very good. There is Tequila, Vodka (both local and international), Whiskey, Brandy, Amarula and host of other bottled booze that will guarantee you cannot drive home.
Although it cannot possibly be considered a 'local bar', if you go to Seven, at ABC Place in Westlands, their 'Champagne & Fishbowls bar will drive you wild with some of the greatest cocktails known to man. And they are actually served in fishbowls. From the Tsunami which is a truckload of Heineken and tequila, to the De-fish-ency, which is blue curacao, pineapple juice and more ocean blue colored vodka that you should be medically allowed to drink, this bar will certainly make your night.
A lot of the local bars also serve cocktails, but you are better off ordering bottled booze. Its faster, it's colder and it is cheaper.
When it comes to food, you can never go wrong with nyama choma and Ugali or fries (barbeque and French fries). For the best nyama choma in any local bar anywhere, go to Blue Bells in Hurlingham. The Nyama Choma chef here is simply heaven sent!! In many of the local bars you can get all kinds of meat including chicken, pork, mutton and so on. Often roasted, fried or boiled. 'Chemsha' is a local term for the best kind of boiled meat served in any local bar within the city. You can also find almost every other kind of food from steamed rice to salads, if you are into that kind of thing. All you have to do is order and wait for about 45 minutes. This is where flirting with and smiling at your waiter or waitress comes in handy. They will tell you what is good and what takes forever to prepare.
You will definitely have an awesome time partying in Kenya. All you need is a bunch of awesome friends, Cab fare and a taste for adventure. The best part is that from these local bars, you can scour the entire city and all it has to offer as far as the nightlife is concerned within a single night. You will be tired to the bone, but it will be worth it. You do however have to be above the legal drinking age, which is 18 in Kenya and you cannot drink and drive. This will land you in jail, if not worse.